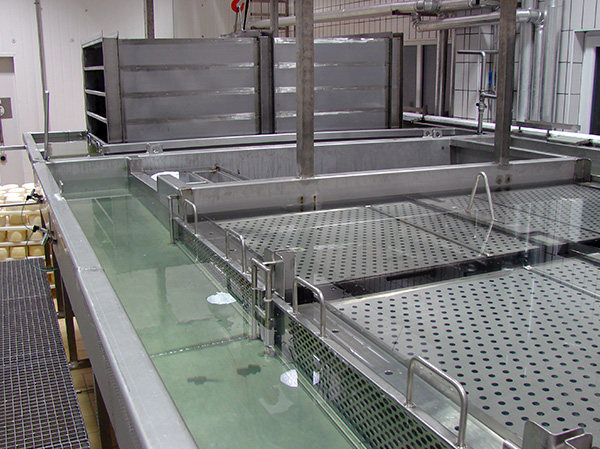 SALTING SYSTEMS AND BRINE TREATMENT
We are specialists in cheese salting and brine treatments. We offer systems adapted to all kinds of spaces, ensuring the total immersion of all the parts during the process.
We are endowed with experience in all kinds of systems:
The cheeses enter and leave the brine bath and circulate via the interior of the baskets thanks to the generation of a current. The container baskets move upwards and downwards thanks to hoists or hydraulic systems.
The cheeses are loaded/unloaded automatically or manually in the container baskets and the latter are transported to the interior of the recipient that contains the brine.
Both systems ensure that all the cheeses remain the same time in the brine and the homogeneousness of the salting process, following the FIFO (First In First Out) principle.
The form and the dimensions are conceived on a case-by-case basis. The recipients may be made of stainless steel, allowing extensions or their mobility, where necessary, or by means of construction projects.
We provide all the complementary equipment for the suitable maintenance of the brine.
Brine pasteurisers.
Filtration using diatomaceous earth.
Filtration using microfiltration.
Product level, temperature and concentration control systems.