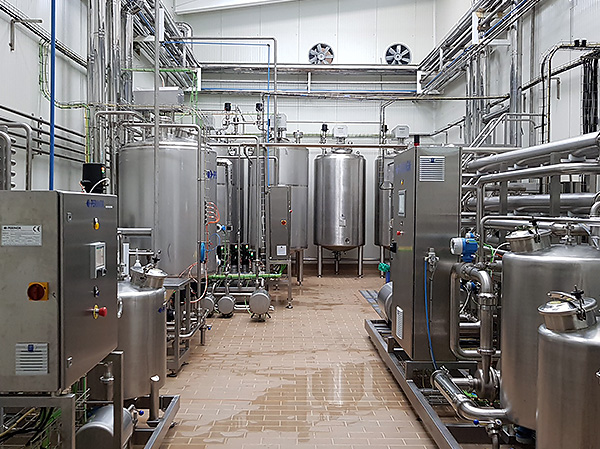 DAIRY PRODUCTS LINES
The production of dairy derivatives using tangential filtration technologies via membranes affords a series of advantages with regard to traditional technologies:
Treatment of products in their liquid state, simplifying the facilities and their automation.
Retention of fat and protein in the product, boosting the cheese yield.
Flexible production lines for a wide range of applications.
Higher level of hygiene in production by minimising the product's exposure to the environment.
Increased shelf-life of the product as a result of the specific technological processes and the actual hygiene of the lines.
We have pioneering technologists specialised in the use of this technology, with vast experience in the development of applications and dairy products by means of ultrafiltration (UF).
The preparation of cheese by means of UF is carried out through total concentration of the milk. Adding ferments, curd, salt or other additives to the retentate, it can be packaged directly. We are specialised in the preparation of fresh cheeses by UF, introducing production technology in different countries (Mexico, Russia, Portugal, Colombia and Spain). We boast a multitude of references worldwide, including leading companies in the dairy sector.
The UF process affords high, uniform quality and a very high yield. Furthermore, it is possible to make several different products at the same UF plant.
Fresh cheeses based on milk or fermented cream, such as quark or cream cheeses, may also be made by means of UF.
We are endowed with specific technology for making Tvorog and Quark by means of ultrafiltration, making us stand out thanks to its quality and texture, identical to that produced traditionally, but with all the advantages of ultrafiltration: higher production yield, product homogeneousness, greater hygiene in the process and product durability.