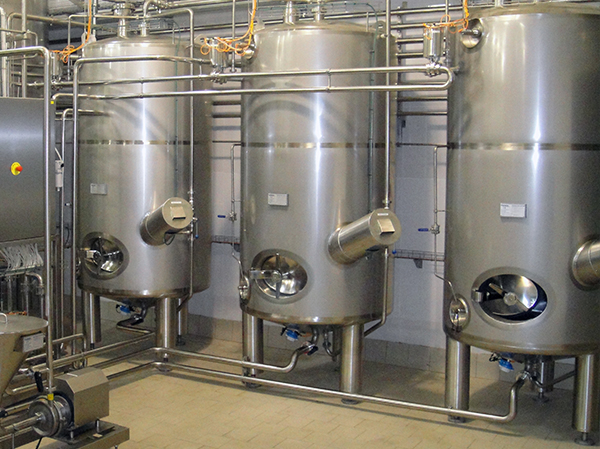 TREATMENT AND BOTTLING OF MILK
We have all the necessary equipment to treat milk for further processing or packaging, from thermal treatment equipment to skimmers, homogenizers or milk reconstitution equipment. We offer a variety of bottling systems for milk and other liquids, both in terms of capacity and format.
Tubular or plate heat exchangers made of different materials in accordance with the needs of each process (stainless steel, titanium etc.) for a wide range of flows.
Thermizers as the initial step before the subsequent preparation treatments for the destruction of the pathogenic microorganisms present in milk, allowing the storage quality of raw milk to be extended when it is not going to be processed straight away.
Pasteurisers for any flow and designed for high efficacy in terms of heat transmission and energy recovery. The necessary sections may be incorporated according to the application, allowing skimmers and homogenizers to be inserted. They can be designed to also act as thermizers.
Skimmers, hygienisers and bactofuge units. Centrifuges designed for a high degree of skimming, with low energy consumption and a low maintenance cost. 
Homogenizers with sanitary design for all kinds of homogenisation pressures. Available with different degrees of automation, for fixed, variable or dual flow, with pulse compensators, pressure transducers with digital reading of pressure and automatic disconnection systems.
Milk reconstitution systems and mixing systems for carrying out efficient reconstitution from powdered milk, as well as the homogeneous addition of products to the milk.
Milk filling system Characterised by their high flexibility, dosing precision and sanitary design that ensures the maximum quality and hygiene standards (laminar flow booths, UV radiation, chemical sterilisation etc.) and construction from high-quality materials which are safe and easy to handle.
Milk concentration Tangential filtration systems which allow the concentration of caseins, the concentration of fat and protein etc. The combination of these technologies allows the preparation of milks enriched in proteins and calcium or lactose-free based on the actual components of the milk, without the need for any additives.