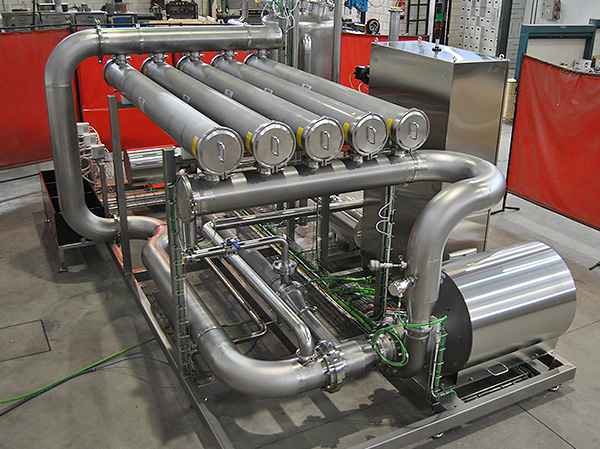 MICROFILTRATION EQUIPMENT (MF)
We provide highly reliable, efficient equipment, with wholly customised configuration, for those clients interested in the various applications of Microfiltration.
Clarification of liquids (milk, brines, juices etc.), thanks to particle separation. Today, brine purification/clarification is an extremely interesting application as a replacement for those technologies traditionally deployed thanks to its economic advantages and sanitation. We put at the disposal of our clients our pilot microfiltration plant for brine purification, as well as our vast experience in this field, with studies carried out on brines endowed with varying characteristics.

Alternative to thermal treatment for the separation of microorganisms (bacteria, spores etc.). The use of milk microfiltration as an alternative to thermal pasteurisation or sterilisation processes is increasing owing to the growing interest in improving the organoleptic characteristics of the products.
Fractionation of micellar proteins (caseins), cells and fat globules. In cheese-making, this allows the concentration of caseins to obtain clean whey which has a series of advantages:

Reducing the volume of milk to be processed, cutting costs.
Increase in the cheese yield as a result of the concentration.
Availability of clean whey to transform it into products with high added value.